Steve Dare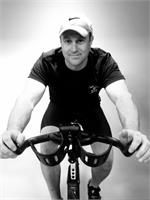 Spin Instructor
Mad Dogg Spin Certified
-Spin Instructor and Cycling enthusiast

Steve is an experienced BMX and Mountain Biker. His sense of adventure and enthusiasm sets the atmosphere for his classes and his training style. Steve's Monday evening session is a great way to kickstart your week! Steve resides in Old Saybrook and is an established builder/carpenter.

Steve Dare instructs the following:
Cycle is a high energy indoor spin class led by a motivating instructor and accompanied by the instructor's unique playlist of powerful and energizing music. Cycle is challenging, fun, and one of the best ways to improve cardiovascular fitness while burning lots of calories. Because cycle is low impact it is suitable for most people, and our classes can accommodate all ability levels.