Mark Fullerton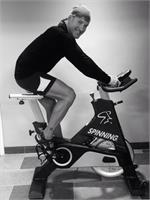 Mad Dogg Spin Certified
- Spin instructor and cycling enthusiast

Mark has been teaching spin for 20 years. He has taught over 4,000 classes. Mark's style of teaching can be described as working out in a nightclub while bringing out your athletic side! Mark has one of the most popular cycle classes at Iron House! Mark's full time job is a Transportation Engineer.
He
resides in Old Saybrook with his daughter India and his son Calvin. He is single and ready to mingle!
Mark Fullerton instructs the following:
Cycle is an indoor cycle class lasting 60 minutes that integrates motivating music, mind-body synergy and unparalleled training benefits.




Cycle is a high energy indoor spin class led by a motivating instructor and accompanied by the instructor's unique playlist of powerful and energizing music. Cycle is challenging, fun, and one of the best ways to improve cardiovascular fitness while burning lots of calories. Because cycle is low impact it is suitable for most people, and our classes can accommodate all ability levels.